Founded in 1974, RESOLVE COMMUNITY COUNSELING CENTER is a private, nonprofit* mental health agency in Scotch Plains, New Jersey dedicated to providing quality and affordable counseling, advocacy and educational programs for children, adolescents and adults, individuals and families.
Resolve provides psychotherapy and counseling by psychologists, social workers, and mental health counselors for the people of Scotch Plains, Fanwood, Plainfield, and surrounding areas in Union County. Resolve provides evidence-based and effective care by highly trained and caring professionals. Resolve's services are highly confidential and based the latest therapy research. Additionally, Resolve Community Counseling Center offers low-cost services on a sliding scale basis for those in need.
(908) 322-9180for an appointment
or information.
1830 Front Street
Scotch Plains, NJ
Services are available in English and Spanish
Announcement
We are hiring! In our ongoing effort to serve all those who seek our services, Resolve is looking for a few good part-time counselors:
– Fully licensed LPC or LCADC;
– Spanish-speaking counselor, MA, license preferred but not required;
– Drug and alcohol counselor – LCADC or CADC.
Positions are all part-time, flexible hours including weekends. Resolve provides a warm, supportive environment for our counselors as well as for our clients. If interested, please email Dr. Lidia Abrams at ResolveCCC@aol.com.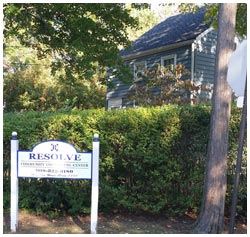 Our highly accredited staff works with group programs, school intervention programs, employee assistance programs, family agency consortium, as well as individual and family counseling. Our clients' concerns cover a wide range from substance abuse to depression, suicide, family problems, behavioral problems, eating disorders, panic attacks, to sexual abuse.
Click here for more information.
We provide counseling, psychotherapy, and psychological services for people from all social and economic backgrounds. We offer the most researched approaches for psychotherapy and counseling. Thisinclude cognitive behavior therapy, interpersonal therapy, family therapy, couples counseling, and rational emotive behavior therapy. Our fees are determined on a sliding scale basis,according toability to pay. We are, therefore, always appreciative of volunteer and financial support which is essential for us to maintain our current levelofhigh quality service.
*Click to see Resolve's Tax Exempt Certificate and IRS Certification
Make a Tax Free Contribution to Resolve
Resolve counselors utilize Rational-Emotive and Cognitive Behavioral Techniques. These are modern adaptations of the stoic philosophers who discovered that emotional distress is more a function of perceptions of the here and now than of the past.